I know the convenience of having massage right to your home was amazing, but then COVID19 came around and messed everything up! Lol. It made it too risky to travel from home to home not knowing if I could come in contact with the virus. Before COVID19, I got sick more often than usual, due to all the homes I would visit per week. In one week, I would travel to about 20-24 different homes! I never realized it until this year when I stopped traveling and wearing a mask that it played a part in my health. Now that COVID19 is here and doesn't seem to be going anywhere, I had to do something to continue to provide my services with strict guidelines to ensure the best quality of care and safety of others.
"What I'm doing to keep you safe"
When booking an appointment with Aid 2 Healing, Inc., you must fill out a COVID19 form, that must be filled out within 24hrs from the scheduled appointment.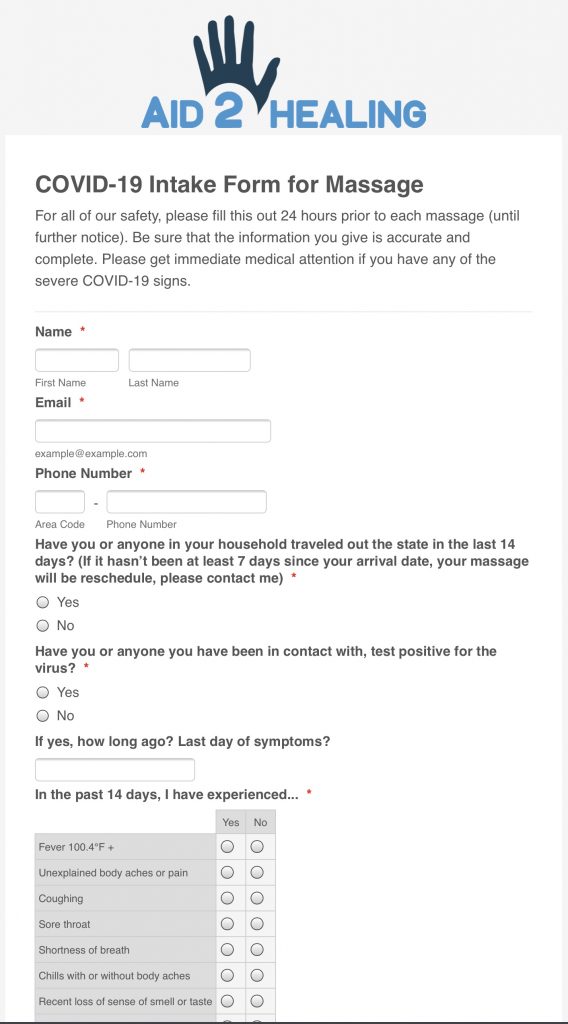 The building is very quiet and private, no high traffic of people. Every client is scheduled with 30mins in between to allow proper sanitation time.
The office has many entrances, I choose to only use the one closest to my unit which is on the second floor. There is a lift for those who have a hard time going upstairs. Temperatures are taken at the door before entering the unit and masks are required upon entering, but are allowed to be removed during the massage. Because of this, I have a plug-in air sanitizer with a UV LAMP running at all times and of course sanitizing all areas especially around face of table. Everything gets wiped and sprayed with a disinfectant, this includes, massage table, oil dispenser, chairs, door knobs, light switches, jewelry tray, countertops, floor mat under face cradle, sink faucet, toilet, and paper dispenser. Vacuum and trash take out at end of day.
These guidelines are strict and my duty to fulfill every time for everyone and myself!